Credits: 1 CTS and 1 CTS-D
Course Description:
This course will explore the history of Ambient Light Rejection (ALR) screens, address the need for ALR materials, take a deep dive into technical specifications and showcase how ALR screens are applicable in real world scenarios.
Learning Objectives:
Understand the history of screen materials
Understand the need for ALR screen materials and the problems they are solving
Understand the technical aspects of ALR materials and now they perform in various environments
Showcase ALR materials in real-life scenarios
How are these courses evaluated?
After the class has been conducted, a link to an online quiz will be emailed to every attendee. The quiz will contain 10 questions that will test for competency.
---
How are the quizzes scored?
The attendee must score at least 80% in order to receive the RU credit.
---
How do we award certificates?
For those that score 80% or better, an email will be sent to the attendee with a certificate of completion. A sample of the certificate can be seen below.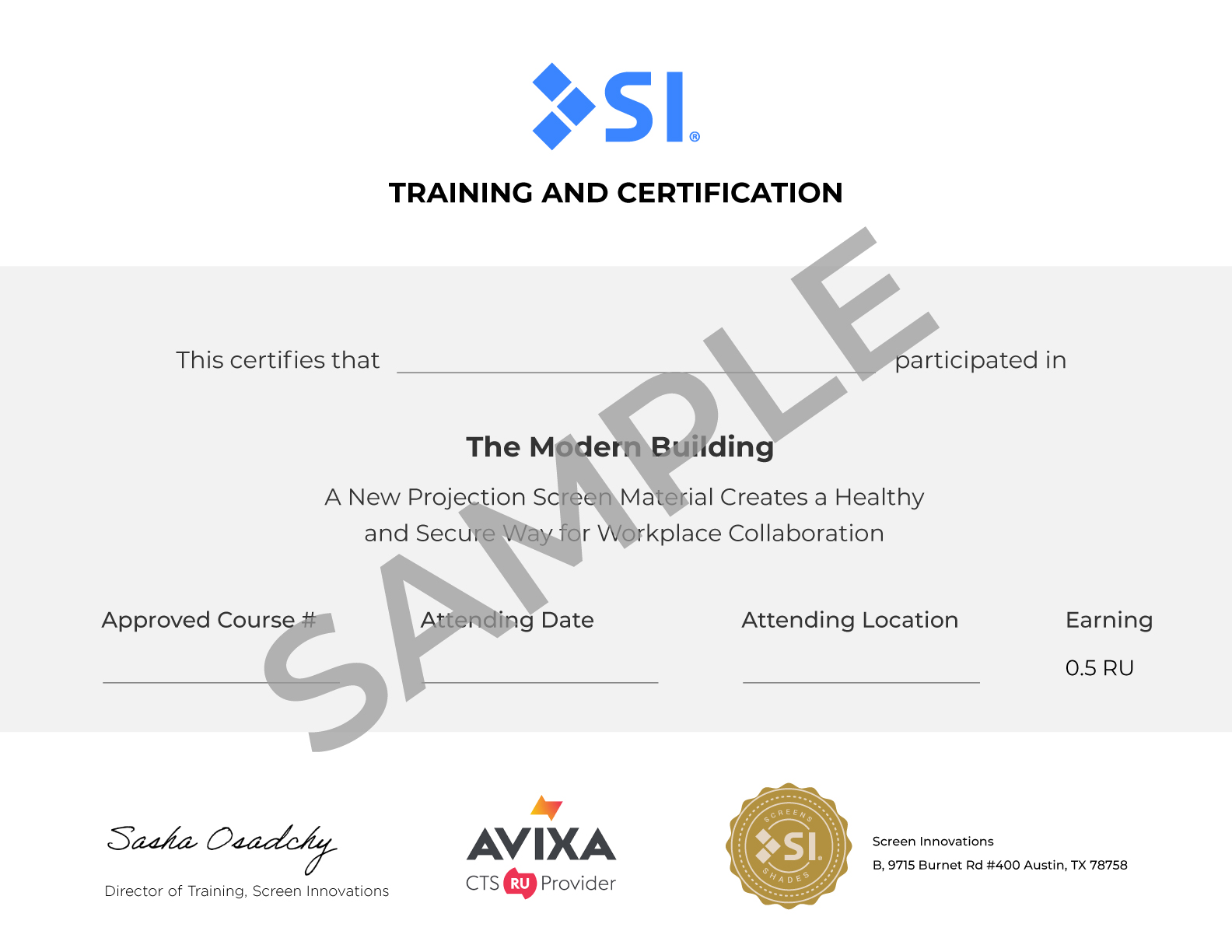 Commercial Screen
Learn how to provide an experience like no other utilizing our award winning designer screens. Wow your customers with a captivating experience in environment!
Top 5 Selling Features from Screen Innovations
No upcoming
Why SI, our Products and Commercial Tools
No upcoming
Learn About Motor and Control Options for Motorized Screens
No upcoming
Topics include:
Basics of Screen Materials
Ambient Light Rejection Materials
White & Gray Materials
Acoustically Transparent Materials
Rear Projection Screens
Black Diamond & Short Throw Snap Attachment System
Screen Material Wizard
---
Click here to get started
Log-in
Click on "Training"
Select the "Screen" tab
Click on "Screen Material Training Modules"
Not an SI Dealer yet? Apply here.
Commercial Shade
Don't miss our FREE online trainings on the best wired and wireless technology made available with the fastest installing shades in the industry. All wrapped up in our system which guarantees our shades perform or your money back.
Shades: The Best Wireless & Wired Technology and Fastest Install Ever Made (60 minutes)
No upcoming
Shades: Fabrics, Measuring, Deployment, & Becoming the Expert (60 minutes)
No upcoming
Janus: Control 8 Large Shades with Any Wiring, Infinite Expandability, and the Smallest Form Factor Ever Built (60 minutes)
No upcoming
Topics include:
Addressing the Stagnation of the Industry
Nano and Attention to Detail
Innovations with Technology
Basics of Zen
Fabrics 101
Introduction to Zigbee 3.0
Deploying Zigbee 3.0
Deploying 485
Deploying RTS
Measuring
FLOW: Specifying Shades, Dashboard Access, & Account Settings
---
Click here to get started
Log-in
Click on "Training"
Select the "Shade" tab
Click on "Become an SI Shades Pro"
Not an SI Dealer yet? Apply here.
Want to join one of our trainings?
Please fill out the form below and we will send you our registration links.
Already a dealer? Login to access registration.